Freshkon Colored Contact Lenses | Get Now from Our Flipkart Store
We OPTITECH are manufacturer, supplier, seller and exporter of Medical or Eye care related product. We also provides Feshkon Colored Contact Lenses which are of different colors and powers. These Freshkon Colored Contact lenses are available on our flipkart store from where you can directly buy from there. Buy Link is given below of product detail.
If you want to buy from us other than flipkart then contact us We will deliver your product at your doorstep.
Product Detail and Buy link from our Flipkart Store are Below :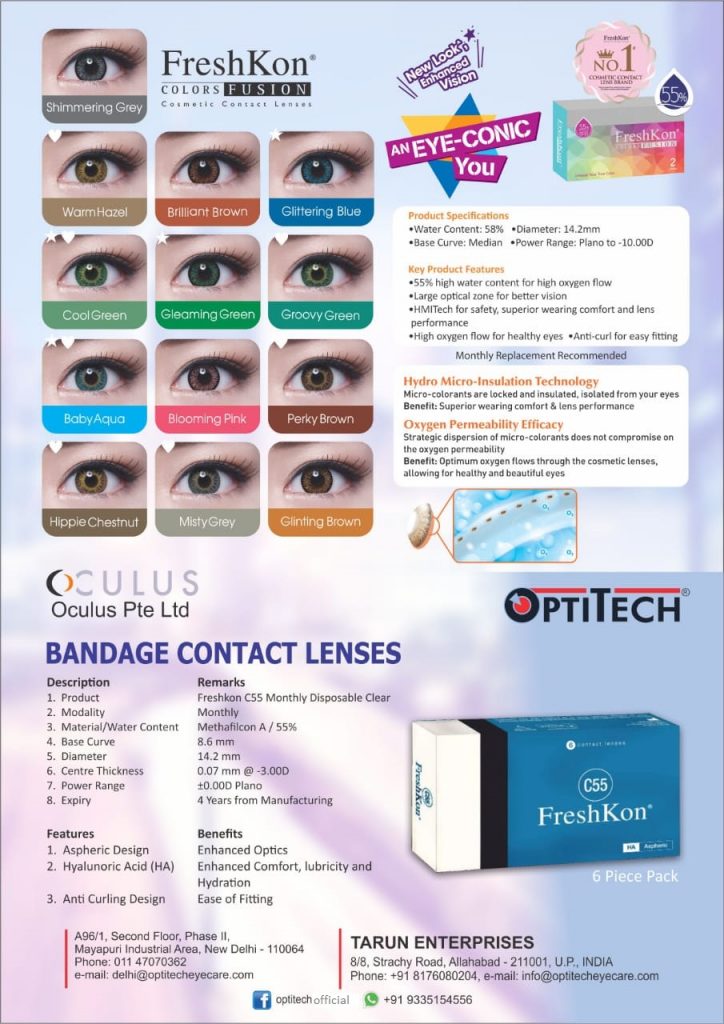 1- Freshkon Monthly Disposable (-0.50, Colored Contact Lenses, Pack of 2) | Color – Warm Hazel | Buy Now From Here
2- Freshkon Monthly Disposable (-0.00, Colored Contact Lenses, Pack of 2) | Color – Warm Hazel | Buy Now From Here
3- Freshkon Monthly Disposable (-0.00, Colored Contact Lenses, Pack of 2) | Color – Groovy Green | Buy Now From Here
4- Freshkon Monthly Disposable (-0.00, Colored Contact Lenses, Pack of 2) | Color – Glinting Brown | Buy Now From Here
5- Freshkon Monthly Disposable (-0.00, Colored Contact Lenses, Pack of 2) | Color – Brilliant Brown | Buy Now From Here
6- Freshkon Monthly Disposable (-0.00, Colored Contact Lenses, Pack of 2) | Color – Perky Brown | Buy Now From Here
7- Freshkon Monthly Disposable (-0.00, Colored Contact Lenses, Pack of 2) | Color – Misty Grey | Buy Now From Here
8- Freshkon Monthly Disposable (-0.00, Colored Contact Lenses, Pack of 2) | Color – Gleaming Green | Buy Now From Here
9- Freshkon Monthly Disposable (-0.00, Colored Contact Lenses, Pack of 2) | Color – Blooming Pink | Buy Now From Here
10- Freshkon Monthly Disposable (-0.00, Colored Contact Lenses, Pack of 2) | Color – Shimmering Grey | Buy Now From Here
11- Freshkon Monthly Disposable (-0.00, Colored Contact Lenses, Pack of 2) | Color – Baby Aqua | Buy Now From Here
12- Freshkon Monthly Disposable (-0.00, Colored Contact Lenses, Pack of 2) | Color – Glittering Blue | Buy Now From Here
13- Freshkon Monthly Disposable (-0.00, Colored Contact Lenses, Pack of 2) | Color – Hippie chestnut | Buy Now From Here
14- Freshkon Monthly Disposable (-0.00, Colored Contact Lenses, Pack of 2) | Color – Cool Green | Buy Now From Here
15- Freshkon Monthly Disposable (-1.00, Colored Contact Lenses, Pack of 2) | Color – Warm Hazel | Buy Now From Here
16- Freshkon Monthly Disposable (-1.25, Colored Contact Lenses, Pack of 2) | Color – Warm Hazel | Buy Now From Here
17- Freshkon Monthly Disposable (0.50, Colored Contact Lenses, Pack of 2) | Color – Glinting Blue | Buy Now From Here
18- Freshkon Monthly Disposable (- 1.50, Colored Contact Lenses, Pack of 2) | Color – Glittering Blue | Buy Now From Here
19- Freshkon Monthly Disposable (- 0.75, Colored Contact Lenses, Pack of 2) | Color – Glittering Blue | Buy Now From Here
20- Freshkon Monthly Disposable (- 1.25, Colored Contact Lenses, Pack of 2) | Color – Glittering Blue | Buy Now From Here
21- Freshkon Monthly Disposable (- 3.25, Colored Contact Lenses, Pack of 2) | Color – Glittering Blue | Buy Now From Here
22- Freshkon Monthly Disposable (- 2.75, Colored Contact Lenses, Pack of 2) | Color – Glittering Blue | Buy Now From Here
23- Freshkon Monthly Disposable (- 2.00, Colored Contact Lenses, Pack of 2) | Color – Glittering Blue | Buy Now From Here
24- Freshkon Monthly Disposable (- 4.00, Colored Contact Lenses, Pack of 2) | Color – Glittering Blue | Buy Now From Here
25- Freshkon Monthly Disposable (- 2.25, Colored Contact Lenses, Pack of 2) | Color – Glittering Blue | Buy Now From Here
26- Freshkon Monthly Disposable (- 1.75, Colored Contact Lenses, Pack of 2) | Color – Glittering Blue | Buy Now From Here
27- Freshkon Monthly Disposable (-5.50, Colored Contact Lenses, Pack of 2) | Color – Glittering Blue | Buy Now From Here
28- Freshkon Monthly Disposable (- 3.75, Colored Contact Lenses, Pack of 2) | Color – Glittering Blue | Buy Now From Here
29- Freshkon Monthly Disposable (- 3.75, Colored Contact Lenses, Pack of 2) | Color – Glittering Blue | Buy Now From Here
30- Freshkon Monthly Disposable (- 2.50, Colored Contact Lenses, Pack of 2) | Color – Glittering Blue | Buy Now From Here
31- Freshkon Monthly Disposable (-9.00, Colored Contact Lenses, Pack of 2) | Color – Glittering Blue | Buy Now From Here
32- Freshkon Monthly Disposable (- 3.00, Colored Contact Lenses, Pack of 2) | Color – Glittering Blue | Buy Now From Here
33- Freshkon Monthly Disposable (-10.00, Colored Contact Lenses, Pack of 2) | Color – Glittering Blue | Buy Now From Here
34- Freshkon Monthly Disposable (- 3.50, Colored Contact Lenses, Pack of 2) | Color – Glittering Blue | Buy Now From Here
35- Freshkon Monthly Disposable (-9.50, Colored Contact Lenses, Pack of 2) | Color – Glittering Blue | Buy Now From Here
36- Freshkon Monthly Disposable (-8.00, Colored Contact Lenses, Pack of 2) | Color – Glittering Blue | Buy Now From Here
37- Freshkon Monthly Disposable (- 4.50, Colored Contact Lenses, Pack of 2) | Color – Glittering Blue | Buy Now From Here
38- Freshkon Monthly Disposable (-8.50, Colored Contact Lenses, Pack of 2) | Color – Glittering Blue | Buy Now From Here
39- Freshkon Monthly Disposable (-5.00, Colored Contact Lenses, Pack of 2) | Color – Glittering Blue | Buy Now From Here
40- Freshkon Monthly Disposable (- 4.75, Colored Contact Lenses, Pack of 2) | Color – Glittering Blue | Buy Now From Here
41- Freshkon Monthly Disposable (-5.25, Colored Contact Lenses, Pack of 2) | Color – Glittering Blue | Buy Now From Here
42- Freshkon Monthly Disposable (- 4.25, Colored Contact Lenses, Pack of 2) | Color – Glittering Blue | Buy Now From Here
43- Freshkon Monthly Disposable (-5.75, Colored Contact Lenses, Pack of 2) | Color – Glittering Blue | Buy Now From Here
44- Freshkon Monthly Disposable (- 1.00, Colored Contact Lenses, Pack of 2) | Color – Glittering Blue | Buy Now From Here
45- Freshkon Monthly Disposable (-7.50, Colored Contact Lenses, Pack of 2) | Color – Glittering Blue | Buy Now From Here
46- Freshkon Monthly Disposable (-7.00, Colored Contact Lenses, Pack of 2) | Color – Glittering Blue | Buy Now From Here
47- Freshkon Monthly Disposable (-6.50, Colored Contact Lenses, Pack of 2) | Color – Glittering Blue | Buy Now From Here
48- Freshkon Monthly Disposable (-6.00, Colored Contact Lenses, Pack of 2) | Color – Glittering Blue | Buy Now From Here
49- Freshkon Monthly Disposable (- 2.00, Colored Contact Lenses, Pack of 2) | Color – Glinting Brown | Buy Now From Here
50- Freshkon Monthly Disposable (- 2.50, Colored Contact Lenses, Pack of 2) | Color – Glinting Brown | Buy Now From Here
51- Freshkon Monthly Disposable (- 1.50, Colored Contact Lenses, Pack of 2) | Color – Glinting Brown | Buy Now From Here
52- Freshkon Monthly Disposable (- 1.00, Colored Contact Lenses, Pack of 2) | Color – Glinting Brown | Buy Now From Here
53- Freshkon Monthly Disposable (- 3.50, Colored Contact Lenses, Pack of 2) | Color – Glinting Brown | Buy Now From Here
54- Freshkon Monthly Disposable (- 3.25, Colored Contact Lenses, Pack of 2) | Color – Glinting Brown | Buy Now From Here
55- Freshkon Monthly Disposable (- 0.75, Colored Contact Lenses, Pack of 2) | Color – Glinting Brown | Buy Now From Here
56- Freshkon Monthly Disposable (- 1.25, Colored Contact Lenses, Pack of 2) | Color – Glinting Brown | Buy Now From Here
57- Freshkon Monthly Disposable (- 0.50, Colored Contact Lenses, Pack of 2) | Color – Glinting Brown | Buy Now From Here
58- Freshkon Monthly Disposable (- 1.75, Colored Contact Lenses, Pack of 2) | Color – Glinting Brown | Buy Now From Here
59- Freshkon Monthly Disposable (- 1.75, Colored Contact Lenses, Pack of 2) | Color – Glinting Brown | Buy Now From Here
60- Freshkon Monthly Disposable (- 1.75, Colored Contact Lenses, Pack of 2) | Color – Glinting Brown | Buy Now From Here
61- Freshkon Monthly Disposable (- 2.25, Colored Contact Lenses, Pack of 2)| Color – Glinting Brown | Buy Now From Here
62- Freshkon Monthly Disposable (- 4.25, Colored Contact Lenses, Pack of 2)| Color – Glinting Brown | Buy Now From Here
63- Freshkon Monthly Disposable (- 4.50, Colored Contact Lenses, Pack of 2)| Color – Glinting Brown | Buy Now From Here
64- Freshkon Monthly Disposable (- 3.75, Colored Contact Lenses, Pack of 2)| Color – Glinting Brown | Buy Now From Here
65- Freshkon Monthly Disposable (- 4.75, Colored Contact Lenses, Pack of 2)| Color – Glinting Brown | Buy Now From Here
66- Freshkon Monthly Disposable (- 5.00, Colored Contact Lenses, Pack of 2)| Color – Glinting Brown | Buy Now From Here
67- Freshkon Monthly Disposable (- 5.25, Colored Contact Lenses, Pack of 2)| Color – Glinting Brown | Buy Now From Here
68- Freshkon Monthly Disposable (- 5.75, Colored Contact Lenses, Pack of 2)| Color – Glinting Brown | Buy Now From Here
69- Freshkon Monthly Disposable (- 6.00, Colored Contact Lenses, Pack of 2)| Color – Glinting Brown | Buy Now From Here
70- Freshkon Monthly Disposable (- 5.50, Colored Contact Lenses, Pack of 2)| Color – Glinting Brown | Buy Now From Here
71- Freshkon Monthly Disposable (- 7.00, Colored Contact Lenses, Pack of 2)| Color – Glinting Brown | Buy Now From Here
72- Freshkon Monthly Disposable (- 6.50, Colored Contact Lenses, Pack of 2)| Color – Glinting Brown | Buy Now From Here
73- Freshkon Monthly Disposable (- 7.50, Colored Contact Lenses, Pack of 2)| Color – Glinting Brown | Buy Now From Here
74- Freshkon Monthly Disposable (- 0.75, Colored Contact Lenses, Pack of 2)| Color – Hippie Chestnut | Buy Now From Here
75- Freshkon Monthly Disposable (- 3.00, Colored Contact Lenses, Pack of 2)| Color – Hippie Chestnut | Buy Now From Here
76- Freshkon Monthly Disposable (- 2.50, Colored Contact Lenses, Pack of 2)| Color – Hippie Chestnut | Buy Now From Here
77- Freshkon Monthly Disposable (- 3.25, Colored Contact Lenses, Pack of 2)| Color – Hippie Chestnut | Buy Now From Here
78- Freshkon Monthly Disposable (- 2.25, Colored Contact Lenses, Pack of 2)| Color – Hippie Chestnut | Buy Now From Here
79- Freshkon Monthly Disposable (- 0.50, Colored Contact Lenses, Pack of 2)| Color – Hippie Chestnut | Buy Now From Here
80- Freshkon Monthly Disposable (- 2.75, Colored Contact Lenses, Pack of 2)| Color – Hippie Chestnut | Buy Now From Here
81- Freshkon Monthly Disposable (- 1.25, Colored Contact Lenses, Pack of 2)| Color – Hippie Chestnut | Buy Now From Here
82- Freshkon Monthly Disposable (- 1.75, Colored Contact Lenses, Pack of 2)| Color – Hippie Chestnut | Buy Now From Here
83- Freshkon Monthly Disposable (- 2.00, Colored Contact Lenses, Pack of 2)| Color – Hippie Chestnut | Buy Now From Here
84- Freshkon Monthly Disposable (-1.00, Colored Contact Lenses, Pack of 2)| Color – Baby Aqua | Buy Now From Here
85- Freshkon Monthly Disposable (- 1.00, Colored Contact Lenses, Pack of 2)| Color – Hippie Chestnut | Buy Now From Here
86- Freshkon Monthly Disposable (- 1.50, Colored Contact Lenses, Pack of 2)| Color – Hippie Chestnut | Buy Now From Here
87- Freshkon Monthly Disposable (-2.75, Colored Contact Lenses, Pack of 2)| Color – Baby Aqua | Buy Now From Here
88- Freshkon Monthly Disposable (-2.50, Colored Contact Lenses, Pack of 2)| Color – Baby Aqua | Buy Now From Here
89- Freshkon Monthly Disposable (- 3.00, Colored Contact Lenses, Pack of 2)| Color – Baby Aqua | Buy Now From Here
90- Freshkon Monthly Disposable (-2.25, Colored Contact Lenses, Pack of 2)| Color – Baby Aqua | Buy Now From Here
100- Freshkon Monthly Disposable (-1.25, Colored Contact Lenses, Pack of 2)| Color – Baby Aqua | Buy Now From Here
101- Freshkon Monthly Disposable (-1.75, Colored Contact Lenses, Pack of 2)| Color – Baby Aqua | Buy Now From Here
102- Freshkon Monthly Disposable (-0.75, Colored Contact Lenses, Pack of 2)| Color – Baby Aqua | Buy Now From Here
103- Freshkon Monthly Disposable (-2.00, Colored Contact Lenses, Pack of 2)| Color – Baby Aqua | Buy Now From Here
104- Freshkon Monthly Disposable (0.50, Colored Contact Lenses, Pack of 2)| Color – Baby Aqua | Buy Now From Here
105- Freshkon Monthly Disposable (-1.50, Colored Contact Lenses, Pack of 2)| Color – Baby Aqua | Buy Now From Here
106- Freshkon Monthly Disposable (- 4.75, Colored Contact Lenses, Pack of 2)| Color – Baby Aqua | Buy Now From Here
107- Freshkon Monthly Disposable (- 4.00, Colored Contact Lenses, Pack of 2)| Color – Baby Aqua | Buy Now From Here
108- Freshkon Monthly Disposable (- 3.50, Colored Contact Lenses, Pack of 2)| Color – Baby Aqua | Buy Now From Here
109- Freshkon Monthly Disposable (- 5.00, Colored Contact Lenses, Pack of 1)| Color – Baby Aqua | Buy Now From Here
110- Freshkon Monthly Disposable (- 7.00, Colored Contact Lenses, Pack of 1)| Color – Baby Aqua | Buy Now From Here
111- Freshkon Monthly Disposable (-5.75, Colored Contact Lenses, Pack of 1)| Color – Baby Aqua | Buy Now From Here
112- Freshkon Monthly Disposable (- 5.50, Colored Contact Lenses, Pack of 1)| Color – Baby Aqua | Buy Now From Here
113- Freshkon Monthly Disposable (- 7.50, Colored Contact Lenses, Pack of 1)| Color – Baby Aqua | Buy Now From Here
114- Freshkon Monthly Disposable (- 5.25, Colored Contact Lenses, Pack of 1)| Color – Baby Aqua | Buy Now From Here
115- Freshkon Monthly Disposable (- 4.25, Colored Contact Lenses, Pack of 2)| Color – Baby Aqua | Buy Now From Here
116- Freshkon Monthly Disposable (- 3.75, Colored Contact Lenses, Pack of 2)| Color – Baby Aqua | Buy Now From Here
117- Freshkon Monthly Disposable (- 4.50, Colored Contact Lenses, Pack of 2)| Color – Baby Aqua | Buy Now From Here
118- Freshkon Monthly Disposable (- 6.00, Colored Contact Lenses, Pack of 2)| Color – Baby Aqua | Buy Now From Here
119- Freshkon Monthly Disposable (- 3.00, Colored Contact Lenses, Pack of 2)| Color – Glinting Brown | Buy Now From Here