About Optometry
Optitech Eyecare
Optometry is a health care profession that involves examining the eyes and applicable visual systems for defects or abnormalities as well as prescribing the correction of refractive error with glasses or contact lenses and the treatment of eye diseases.
Traditionally, the field of optometry began with the primary focus of correcting refractive error through the use of spectacles. Modern-day optometry, however, has evolved through time so that the educational curriculum additionally includes significant training in the diagnosis and management of ocular disease, in most of the countries of the world, where the profession is established and regulated.
Optometrists (also known as doctors of optometry in the United States and Canada, by a higher degree in the United Kingdom and worldwide for those holding the O.D. degree) are health care professionals who usually provide primary eye care through comprehensive eye examinations. They diagnose and manage various vision abnormalities including refractive errors as well as various eye diseases. Being a regulated profession, an optometrist's scope of practice may differ depending on the location. Optometrists typically work closely together with other eye care professionals such as ophthalmologists and opticians to deliver quality and efficient eyecare to the general public.
Definition of optometry and optometrist
The World Council of Optometry, World Health Organization and about 75 optometry organisations from over 40 countries have all over the world adopted the following definition, to be used to describe optometry and optometrist. Optometry is a healthcare profession that is autonomous, educated, and regulated (licensed/registered), and optometrists are the primary healthcare practitioners of the eye and visual system who provide comprehensive eye and vision care, which includes refraction and dispensing, detection/diagnosis and management of disease in the eye, and the rehabilitation of conditions of the visual system.
History
Optometric history is tied to the development of
vision science (related areas of medicine, microbiology, neurology, physiology, psychology, etc.)
optics, optical aids
optical instruments, imaging techniques
other eye care professions
The history of "optometry" (refracting opticians) can be traced back to the early studies on optics and image formation by the eye. The origins of optical science (optics, as taught in a basic physics class) date back a few thousand years BC as evidence of the existence of lenses for decoration has been found in Greece and the Netherlands.[citation needed]
It is unknown when the first spectacles were made. The British scientist and historian Sir Joseph Needham, in his Science and Civilization in China, reported the earliest mention of spectacles was in Venetian guild regulations circa 1300. He suggested that the occasional claim that spectacles were invented in China may have come from a paper by Laufer. Per Needham, the paper by Laufer had many inconsistencies, and that the references in the document used by Laufer were not in the original copies but added during the Ming dynasty. Early Chinese sources mention the eyeglasses were imported.
Alternatively, research by David A. Goss in the United States shows they may have originated in the late 13th century in Italy as stated in a manuscript from 1305 where a monk from Pisa named Rivalto stated "It is not yet 20 years since there was discovered the art of making eyeglasses". Spectacles were manufactured in Italy, Germany, and the Netherlands by 1300. Needham stated spectacles were first made shortly after 1286.
In 1907, Professor Berthold Laufer, who was a German American anthropologist, stated in his history of spectacles 'the opinion that spectacles originated in India is of the greatest probability and that spectacles must have been known in India earlier than in Europe'. However, as already mentioned, Joseph Needham showed that the references Laufer cited were not in the older and best versions of the document Laufer used, leaving his claims unsupported.
In Sri Lanka, it is well-documented[citation needed]that during the reign of King Bhuvanekabahu the IV (AD 1346 – 1353) of the Gampola period the ancient tradition of optical lens making with a natural stone called Diyatarippu was given royal patronage. A few of the craftsmen still live and practice in the original hamlet given to the exponents of the craft by royal decree. But the date of King Bhuvanekabahu is decades after the mention of spectacles in the Venetian guild regulations and after the 1306 sermon by Dominican friar Giordano da Pisa, where da Pisa said the invention of spectacles was both recent and that he had personally met the inventor.
The German word brille (eyeglasses) is derived from Sanskrit vaidurya.[10] Etymologically, brille is derived from beryl, Latin beryllus, from Greek beryllos, from Prakrit verulia, veluriya, from Sanskrit vaidurya, of Dravidian origin from the city of Velur (modern Belur). Medieval Latin berillus was also applied to eyeglasses, hence German brille, from Middle High German berille, and French besicles (plural) spectacles, altered from old French bericle.
Benito Daza de Valdes published the first full book on opticians in 1623, where he mentioned the use and fitting of eyeglasses. In 1692, William Molyneux wrote a book on optics and lenses where he stated his ideas on myopia and problems related to close-up vision. The scientists Claudius Ptolemy and Johannes Kepler also contributed to the creation of optometry. Kepler discovered how the retina in the eye creates vision. From 1773 until around 1829, Thomas Young discovered the disability of astigmatism and it was George Biddell Airy who designed glasses to correct that problem that included sphero-cylindrical lens.
Although the term optometer appeared in the 1759 book A Treatise on the Eye: The Manner and Phenomena of Vision by Scottish physician William Porterfield, it was not until the early twentieth century in the United States and Australia that "optometry" began to be used to describe the profession. By the early twenty-first century, however, marking the distinction with dispensing opticians, it had become the internationally accepted term.
Training, licensing, representation and scope of practice
In 2010, it was estimated that India needs 115,000 optometrists; whereas India has approximately 9,000 optometrists (4-year trained) and 40,000 optometric assistants/vision technicians (2-year trained). In order to prevent blindness or visual impairment more well-trained optometrists are required in India. The definition of optometry differs considerably in different countries of the world. India needs more optometry schools offering four-year degree courses with a syllabus similar to that in force in those countries where to practise of optometry is statutorily regulated and well established with an internationally accepted definition.
In 2013, it was reported in the Indian Journal of Ophthalmology that poor spectacle compliance amongst school children in rural Pune resulted in significant vision loss.
In 2015, it was reported in the Optometry and Vision Science that, optometrists need to be more involved in providing core optometry services like binocular vision and low vision.
Training in India
At present, there are more than fifty schools of optometry in India. In the year 1958, two schools of optometry were established, one at Gandhi Eye Hospital, Aligarh in Uttar Pradesh and another one at Sarojini Devi Eye Hospital, Hyderabad in Telangana, under the second five-year plan by Director General of Health Services of Government of India. These schools offered diplomas in optometry courses of two years duration validated by State Medical Faculties.
Subsequently, four more schools were opened across India situated at Sitapur Eye Hospital, Sitapur in Uttar Pradesh, Chennai (formerly Madras) in Tamil Nadu, Bengalooru (formerly Bangalore) in Karnataka and Regional Institute of Ophthalmology, Thiruvananthapuram (formerly Trivandrum) in Kerala.
The Elite School of Optometry (ESO) was established in 1985 at Chennai and was the first to offer a four-year degree course.
Academic degrees such as Bachelor of Optometry, Master of Optometry and Doctor of Philosophy in Optometry are awarded in India by the universities recognised by University Grants Commission (India), a statutory body responsible for the maintenance of standards of higher education in India.
Optometrists across India are encouraged to register with the Optometry Council of India, a self-regulatory body registered under the Indian Company Act.
Education and Training
Doctors of Optometry (O.D.) (Optometrist) typically complete four years of undergraduate studies followed by four years of Optometry school. Some complete an optional year of additional training. Optometry's program is highly specific to the eyes and related structures. Optometrists receive their medical eye training in optometry school. Training takes place in colleges of optometry, hospitals, clinics and private practices. Instructors may be optometrists, ophthalmologists, or professors (Ph.D.). The program includes classroom and clinical training in geometric, physical, physiological and ophthalmic optics, speciality contact lens evaluation, general anatomy, ocular anatomy, ocular disease, pharmacology, ocular pharmacology, neuroanatomy and neurophysiology of the visual system, pediatric visual development, gerontology, binocular vision, color vision, form, space, movement and vision perception, systemic disease, histology, microbiology, sensory and perceptual psychology, biochemistry, statistics and epidemiology.
Optometrists are required to obtain continuing education credit hours to maintain licensure
Who is Optometrist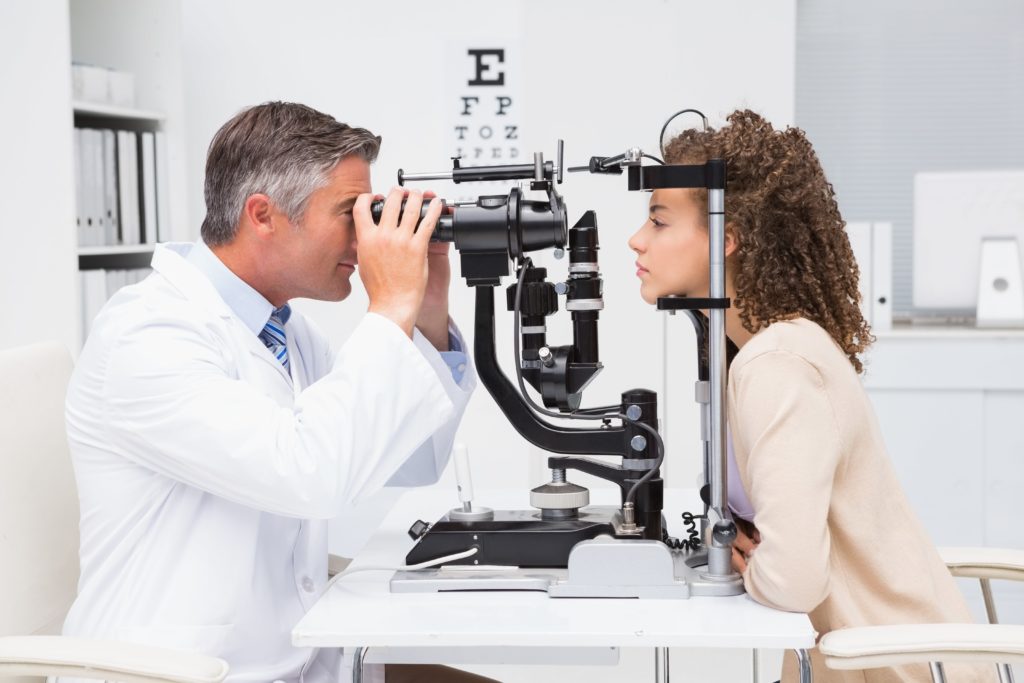 An optometrist is an eye care professional who has earned a degree in Optometry. Optometrists examine eyes for both vision and health problems, and correct refractive errors by prescribing glasses and contact lenses. Some optometrists also provide low vision care and vision therapy.
Career in Optometry
Are you always a concern for the health of another person, especially the eyes? Do you want to help people by diagnosing their visual impairments using instruments? If yes, you should consider to pursue your career as an optometrist.
Optometrists are the technicians who examine eyes issues. Optometrists are professionals with technical knowledge about visual disorder. The main point to be noted here is that an optometrist is not a doctor. Their primary responsibility is to diagnose eye-related defects like near-sightedness, farsightedness, or other visual impairments. An optometrist should always work in a structured manner with precision and accuracy, and they should be comfortable in handling advance instruments used to detect visual defects.
What are the roles and responsibilities for Optometrist?
Examine eyes, using observation, instruments and pharmaceutical agents, to determine visual acuity and perception, focus and coordination and to diagnose diseases and other abnormalities such as glaucoma or color blindness.
Prescribe, supply, fit and adjust eyeglasses, contact lenses and other vision aids.
Analyze test results and develop a treatment plan.
Prescribe medications to treat eye diseases if state laws permit.
Remove foreign bodies from the eye.
Prescribe therapeutic procedures to correct or conserve vision.
Educate and counsel patients on contact lens care, visual hygiene, lighting arrangements and safety factors.
Consult with and refer patients to ophthalmologist or other health care practitioner if additional medical treatment is determined necessary.
Provide patients undergoing eye surgeries, such as cataract and laser vision correction, with pre- and post-operative care.
Provide vision therapy and low vision rehabilitation.
How to Become an Optometrist in India?
There are 3 ways to become an Optometrist in India
Path 1 :
Student can do 12-Science(Biology recommended). Then complete Bachelors in Optometry (B.Optom). Further you can Proceed with Masters in Optometry (M.Optom). Further you can Proceed with Doctorate in Optometry (OD).
Path 2 :
Student can do 12-Science(Biology recommended). Then complete B.Sc Optometry. Further you can Proceed with M.Sc Optometry. Further you can Proceed with Doctorate in Optometry (OD).
Path 3 :
Student can do 12-Science(Biology recommended). Then complete Diploma in Ophthalmic Assistance/ Technology. Further you can Proceed with Post Graduate Diploma/B.Optom.
What are the key skills required for Optometry?
Optometry
Refraction
Diagnosis
Treatment planning
Critical thinking
What are the career opportunities in Optometry?
Doctor of Optometry (OD)
Eye Clinic Manager
Independent Contractor
Optometrist
Optometrist
Optometrist
Optometrist/Practice Owner
Owner
Optometry Service
President/Practice Owner
What is the salary and demand for Optometrist?
Demand is Medium for Optometry.
Salary levels are Medium for Optometry. For fresher average salary is 3 to 4 Lacs.
Fees levels of the course is Low. To pursue this course student need to spend lesser than 2 Lakhs.
Level of preparation for Optometry is Medium. Students spend 1 Year. to prepare for entrance test of Optometry.